Black Silk Laser ™
"Love it! Keeps Me Hairless For Upto 4 Weeks, Without Shaving, Waxing Or Plucking."
- Layla Amelia
"Famous Influencers Use This Secret "Hair Removal Device" To Maintain Silky Smooth, Glowing Hair Free Skin For Months On End"
It's true, body hair is gross…
Body hair is gross. Keeping your face, legs, armpits, and pubic region properly groomed is essential to feeling and looking feminine, confident, and glamorous in ANY outfit (or none at all)…
But staying hairless is NOT easy:
- Shaving is painful and it damages your skin, creating razor bumps and burns
- To stay really clean, you need to shave once every 2-3 days
- Clinical laser hair removal treatments are extremely painful and expensive, like tens of thousands.
- Waxing hurts like nothing else in the world and grows back after only a few weeks
Nobody Has Time To Do All Of That!
Especially famous influencers. Everybody knows social media influencers live in front of the camera: they must be PERFECT at all times, despite their busy schedules. When they trust a product wholeheartedly to protect their brand and their image…
It's worth paying attention to!
Fast! Easy! More Effective! 
Stay hair-free for up to 4 weeks!
Such is the case with BLACK Silk Laser Hair Remover, the highest-rated safety-certified IPL laser hair remover that your money can buy today. 


Remove Hair FAST, Getting Results In Just 3-4 Weeks 
... And Reducing Your Hair Removal Routine To Only 15 Minutes A Week
How Does It Work?
IPL (intense pulsed light) treatments are a proven safe and effective way to destroy hair cells deep inside of the follicle.
Simply put, IPL hair removal stands for Intense Pulsed Light. It sends out a specific wavelength of light that specifically targets the hair follicles in your skin.
It causes them to heat up and damages their ability to regrow. But the really amazing thing is this: it leaves all of the surrounding cells perfectly safe. 
The result is your hair doesn't grow back as quickly, resulting in long periods of hairlessness – up to 4 weeks at a time.
Endorsed By Famous Influencers & Celebs Like:
- Katie Price, Chloe Ferry, Faryal Makhdoom, Vanity Femme, Fernanda Flores & Leslie Hernaandez. The list goes on...
- Over 20,000+ Happy Customers!
Features
600,000 Flashes - Enough flashes to last you for 43+ Years (Basically A Lifetime)

1-8 Levels Of Intensity - 

Ensuring the light intensity is perfect for your skin tone, meaning you can get a salon level treatment, with the safety and comfort of being at home.

Forget About Damaging Your Skin - Hairless in just 4 weeks, without shaving, epilating, waxing, or any other silly hair removal method. It reads the skin & automatically selects the best intensity level to match your skin for the perfect balance of safety and desired result.
Gentle - 3 Gentle settings to help ease first time users into treating sensitive areas.
Precision - To help maneuver every part of your body - even sensitive areas like your bikini line/chest/cheek/lips/back & abdomen.
90 Day money back guarantee
But Just In Case, You're Still Not Convinced…
Simply put, we just want you to stop damaging your skin by shaving & waxing and giving you a long term solution to reinvent yourself!
Black Silk offers a full 90 day, 100% satisfaction guarantee. Order yours, try it out, make sure it works, and decide if you like it over the next 3 months. If you want to send it back, we'll refund every penny of your purchase price, no questions asked.
On top of that, when you do decide to keep your Black Silk, it is still certified for your safety and comes with a 6-month warranty on all parts.
We want you to feel safe trying out the Black Silk BEFORE you decide to keep it! But make sure to get yours ASAP, because Our Buy 2+ Items & Get 72% OFF Your Whole Order Ends Soon!
Results
The Bottom Line: Legs This Smooth Can Cause Quite A Stir 
Women will wonder how much time you spend at the spa, and men will stop dead in their tracks to wonder a whole lot more.
But be careful out there, you don't want to cause a ten-car pileup.
Unless, of course, that's the plan.
We're certainly not here to judge.
+ Improves the health and look of your skin, instead of harming it like other methods
+ Actually *certified* to be 100% safe, unlike most IPL devices you find online
+ With over 20,000+ happy customers and numerous influencer endorsements, BLACK Silk is THE worldwide authority on IPL hair removal
+ Provides over 600,000 flashes for an extremely durable 9+ year lifespan
+ Keeps your skin smooth and hairless for up to 6 weeks at a time, and possibly longer!
Best of all, it fits into your busy schedule, taking only 30 minutes away from your week (and helping you save money for a "girl's night out" at the same time).
IPL (Intense Pulse Light)
With Intense Pulsed Light technology, gentle pulses of light are applied to the skin and absorbed by the hair root. The lighter the skin and the darker the hair, the better the pulses of light are absorbed.
The pulses of light stimulate the hair follicle to go into a resting phase. As a consequence, the hair sheds naturally and hair regrowth is prevented.
The cycle of hair growth consists of different phases. IPL technology is only effective when the hair is in its growing phase. Not all hairs are in the growing phase at the same time. This is why we recommend you to follow the initial treatment phase (4-5 treatments, every treatment 2 weeks apart) and then the follow-up treatment phase (touch-ups every 4-8 weeks) to make sure all hairs are effectively treated in the growing phase.
Tip: To assure long lasting hair removal, touch-ups every 4 weeks are recommended.
Note: Treatment with Black Silk Laser Hair Removal is not effective if you have light blond, grey, red or white hairs as light hairs do not absorb enough light.
There have been many clinical studies conducted that demonstrate the safety and effectiveness of IPL for hair removal. Due to this fact, it has become an extremely popular option for safe and effective methods of hair removal at home and in clinics. 
In short, IPL hair removal is a very safe treatment and if used as instructed, our handset poses no risks to the user! It is FCC, CE and RoHs certified for safe use. 
Our handset also ensures that all UV wavelengths are filtered by blocking wavelengths below 470 nm from the IPL spectrum. This is standard among most IPL systems. This is done to prevent the light doing damage to the outer layer of the skin, this means your handset will never cause long term complications caused by UV exposure such as skin cancer, skin aging etc.
One of the biggest advantages of our IPL handset over other types of hair removal is that it is far less painful. The feeling is dependent on many factors and varies from person to person.
The majority of our customers have said they don't feel a thing at the lowest intensity level 1! But only a slight sting at the highest intensity level 8.
This is to say we have 8 intensity levels to choose from, this will allow you to select the most comfortable intensity level for you. We also have a very simple method of determining the perfect intensity level for you and when to work your way up to higher intensities for better results in our user guide.
Most customers begin to notice a noticeable reduction of hair growth after just 3-4 weeks, with treatments done once a week, and complete results after 12 weeks. The hair will grow back more sparse and slower after each treatment eventually turning into a permanent reduction in hair growth. To maintain hairless smooth skin after that, use the handset once every 2 to 3 months for a touch up or as needed. Results and treatment length needed may vary from person to person.
According to the FDA, permanent hair removal means the "long-term, stable reduction in the number of hairs regrowing after a treatment regime." Which is what our handset provides! But this may differ from the average interpretation of 'permanent'. Remember even in-clinic laser is not fully permanent. In any case, if you don't mind just one touch up every 3-4 months after the full treatment is complete, then I'd say it's a pretty darn good deal!!!
Generally, we only recommend that IPL hair removal treatment should only be done for someone 16 and up, due to the hair being at a mature state. Certain ethnicities see hair growth maturity at younger ages, use is up to the user and anyone under 18 years old should seek parental consent and an expert opinion (aesthetician/dermatologist) prior to use of our IPL handset.
How To
How do I clean my Black Silk Laser?
Cleaning instructions:
1. Switch off and unplug your Black Silk Hair.
2. If possible remove the attachment from the light exit window.
3.Use a soft, moist cloth to clean the following parts: the light exit window, the outside surface of the attachments, the reflector inside the attachments
We recommend using your handset once a week for the first 12 weeks. You can also use it twice per week for faster results. After this period, use the handset once a month for 3 months or until satisfied. To maintain hairless smooth skin after that, you may need to use the handset once every 2 to 3 months or as needed.
It is not necessary to treat the area more than once a week. This is because IPL is most effective in the hair growth phase, and some hairs may be dormant during treatment. This is why it is recommended to do 12 consecutive weeks of treatment.
If you are struggling to see results, try a higher intensity and use your handset 2 times per week (never more). Do this until you see some results, then you can reduce your frequency back to once per week.
You can use your handset on any part of your body, including your Brazilian (Bikini area) and face.
Our IPL is not suitable for the 'inner parts' of the bikini area, therefore you should never use it on the labia minora, vagina or anus.
To prevent discomfort, we advise you to treat the bikini area, inner thighs and buttocks with a lower setting, as this skin can be more sensitive.
Yes, we recommend that you shave the desired areas between treatments and before using your handset. Shaving takes the hair down to the appropriate length whereas not to cause any burns during treatment but also allows the hair root to get targeted effectively. Other forms of hair removal including waxing and tweezing will remove the hair root entirely. Which won't allow the IPL to target the root. That being said, if you run your hand over the area and cannot feel any hair at all, then there is no need to shave. In regards to peach fuzz on the face, we recommend derma planning to remove those hairs prior to treatment.
Our IPL handset works by emitting a wavelength which targets pigment in the hair. As the light is absorbed by the pigment in the hair it turns to heat which then kills the hair growth cells. Hair will grow back more sparse and slower after each treatment, reducing hair growth permanently over time.
Handset Details
There are multiple factors that set us apart from the other IPL Handsets that seem to "look" the same. The first and most important factor is that our Handset is FCC, CE & RoHS certified for safe use. All the components have been tested for safety and performance. This is very important for such a sophisticated device, the internals are far more important than the aesthetics.
Our team is also fully equipped with all the knowledge necessary to help you achieve the best results possible. Customer satisfaction is our main priority, your happiness is our goal! We won't leave you in the dust after purchase like some other brands.
We have also developed 2 extra modes called Glide Mode and Auto Mode, these were created to make the whole treatment process even simpler. Auto Mode for example allows you to do your entire body in 30 minutes, without even clicking the pulse button! We made sure to make our handset the easiest, safest and most convenient form of long term hair removal.
Our IPL handset is equipped for 600,000 flashes which will last well over 10 years if used as directed. This also means there are no recurring costs and no need for replacements or refills.
Our handsets are dual voltage (110V~240V) meaning it will work in every region in the world. It also comes with a 12V power supply with the correct plug type for your country. (Eg: USA orders receive 2 straight prongs, EU receive 2 round prongs)
Safety Tips
Black Silk Hair Remover is not suitable for all skin and hair types. Find out here which skin tones and hair types Black Silk Hair Remover is suitable for.
Skin tone and hair suitability for Black Silk Hair Remover
IPL (Intense Pulsed Light) treatment works when the energy of the light is absorbed by melanin (a type of pigment) in the hair. Since light blonde, grey and white hair do not contain enough or any melanin, IPL treatment will never work on these hair colours. Red hair contains a different type of melanin, which is also not responsive to IPL.
Black Silk Hair Remover is also not suitable for dark skin tones, as it can cause skin damage such as burns, blisters or discolouring.
Check the skin tone/hair colour chart
Black Silk Hair Remover series is suitable for use on skin type one to skin type five. 
Black Silk Hair Remover is not suitable for use on light blonde, white, grey or red hair.
 A skin disease such as allergic dermatitis, eczema, etc.
Black Silk Laser is not suitable if you have any of the following:
• Photosensitive epilepsy
• PAre menstruating, pregnant or lactating
• Black or Sunburnt skin (please refer to the skin tone chart)
• Black or fuscescens nevus
• Broken skin, a scab or healed wound, cancer or hemangioma 
• Any artificial aesthetic, prosthetic or plastic area 
• A known skin disorder
Although there is no evidence showing that IPL has negative effects on pregnant or breastfeeding women, to be safe we still don't recommend using our handset.
You should never IPL over tattoos. This will cause the IPL to target the tattoo and could produce burns and a painful experience. However, going around tattoos to treat an area is fine. You should not IPL over very dark freckles or moles, however light freckles are fine. If you have an area you wish to treat that has dark freckles or moles, it is recommended to colour over them with a white pencil if possible.
No, it isn't necessary to wear eye protection while using our handset.  Our handset is fitted with a sensor and will never pulse unless the entire flash window is pressed against your skin. This is to protect your eyes from the bright light produced from the handset. That being said you should never try and look directly into the light as it flashes. If you would like to purchase our UV glasses then please click this link https://blackldn.com/collections/all/products/anti-flash-lens-eyewear
We recommend waiting 2 weeks before using your handset if you have recently tanned. Also, you should wait 48 hours to tan after using your handset. This is because your skin may be more sensitive to burns directly after IPL treatment. Any form of artificial tan should not be on your skin while using your handset.
Our handset is suitable for those who use retinol, vitamin C and other acids. Our handset ensures that all UV wavelengths are filtered by blocking wavelengths below 470 nm from the IPL spectrum. This is done to prevent the light doing damage to the outer layer of the skin, this means your handset will never cause complications caused by UV exposure.
Shipping
Delivery within the UK takes 3-8 working days. Weekends are not included.
US shipping takes 3-8 working days. Weekends are not included.
Rest of the world: 10-15 working days
*Please note processing time could take up to 3 business days
We offer free express shipping worldwide!
Please note that we try to get the package to the destination as quickly as possible, after it has arrived it is up to the local postal service to deliver your package in a timely manner.
For countries that we noticed have a slow or unreliable postal service we have added the option of Insured DHL Express delivery. As this is a private carrier we can confidently send your package securely, regardless of the country.
Black Ldn is in no way responsible for any customs or import charges, charged to the customer by the shipping service.
We will send you a tracking number to your email once the package has been shipped
Handling Notice
All orders will typically be dispatched within 1-3 business days from our warehouse and all orders will include tracking from dispatch to delivery. All orders will be shipped in durable packaging to ensure your purchase is not damaged during transit. Black Ldn is not responsible for delays, lost or damaged shipments or orders sent to incorrect, invalid addresses or correct addresses. It is always in our best interests to make sure you receive your parcel in a timely manner and Black Ldn will assist as much as possible to trace a missing parcel. Black Ldn is not responsible for refunds of shipping costs in the event of delayed shipping due to product availability.
Returns
Please do not return the package before contacting us, we cannot guarantee processing your refund if you do not contact us first.
Hey we get it's hard to trust a product which sounds too good to be true. That's why we're proud to offer our 90 day money-back guarantee!
How to claim your money back:
Trial our Handset for at least 70 Days from date of delivery, but for no more than 90 days.
If you are not completely satisfied by the performance of our Handset, email a customer care representative at help@blackldn.com
Incomplete, indecipherable or illegible claims will be deemed invalid.
Real postage costs for the sending and return of our Handset are the full responsibility of the Claimant and will not be refunded.
Once returned, our Handset's purchase price will be refunded to you.
Please note the 90 day guarantee is only available for the IPL Laser Hair Removal Handset.
Customer Reviews
Write a Review
Ask a Question
Trash
I never received my package. Where the **** is it. No respond or anything. I ordered like 6 months ago
11/30/2021
Cici

United Kingdom
Works really well.
I have used it only 3 times and I love it already! As you can see from my results, hair barely grows back. Love not having to having to shave all the time because I use to get a lot of ingrown hairs. Very happy xx I plan on getting one for my mum for her birthday! x
11/30/2021
Amanda

United Kingdom
5 stars from me.
I bought this thinking it would not work but it definitely does! It is working a bit better on my legs than my arm pits but I think arm pits just take a little longer. Shipping was a little slower than stated but all deliveries are at the moment with the virus stuff, be patient it will come and it is worth the wait for sure!! I've attached before and after pictures of my results❤️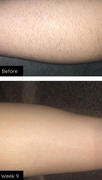 11/30/2021
Jen

United Kingdom
AMAZING!
This is an amazing product. I am almost on month 2 and it has made a huge difference. My main concern was upper lip, all my life I have had dark coarse hair and the hair follicles looked like a darkness. I am amazed, I am almost hair free above my lip, and I just can't explain how this has made me feel. I would buy again. I am such a busy person and would always leave the house without checking my upper lip first and get caught with random hairs and now I don't need to worry anymore!
Love this
So i have PCOS which causes hair to grow on my face a lot fast than normal people and it's always annoyed me but using black silk laser for 4-5 weeks now has SERIOUSLY slowed the rate at which the hair grows back at which i'm loving! I'm going to keep using it and hopefully it will completely stop (At this rate i think it will!) :)
11/30/2021
Maria

United Kingdom
SO thankful for this
I first used this product on my legs, I felt a slight warmth sensation on my skin, after that I noticed the results and a lot less leg hair, after about 4 sessions I really noticed a difference. I also used it on my sister, after this point and she is now 3 weeks into sessions and seeing results too! I am near the end of my treatments and have barely any hairs left now. We are both satisfied with the results and progress we have seen.