Black Ldn Automatic Curler
This Secret Influencer Automatic Curler Makes Perfectly-Curled Bouncy Ringlets Every Time
✨ Buy 2 Or More Items On Our Store & Get 72% OFF Your Whole Order
Rapid Curling (9 Minutes Total Time) Has Never Been So Advanced, So Safe, Or SO CONVENIENT!
If there was ever a single beauty secret that could instantly make you more glamourous… Drive men crazy at first impression... And make almost every woman in the world universally jealous…
That one single beauty secret would be perfectly curled hair. Why?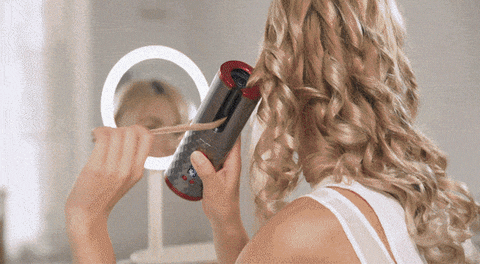 Having glamorous curls like a young Brook Shields, Julia Roberts, or Beyonce (AKA Sasha Fierce) is NOT easy. The difficulty makes "the look" rare. Yes, it's absolutely a showstopper… 
…But Curling Your Hair Into Perfectly Glossy
Ringlets That Stick Usually Takes A Lot Of Effort:
 -   Old-fashioned curling irons make it easy to burn your hand and your hair on accident. 
-   Let's face it: you don't want to spend hours upon hours getting perfectly curled hair, that's why you usually settle for other hairstyles (until now)
-   Most curlers come with a leash – the power plug confining you to one room for hours and making travel inconvenient.
-   Despite your best efforts, even the most advanced curling irons always leave your hair frizzy – and less glamorous than before. 
-   Worst of all, even if you do somehow manage to get the perfect curl, it never holds.
Imagine: Bounce, Flounce, Shine, And Curl All In 15 Minutes
Whether the ideal look you are going for is classic beach waves or the full-on Marilyn Monroe -- Black Auto Curler is the state-of-the-art in automatic curling technology that your favorite influencers swear by.
What Makes The Black Ldn Automatic Curler So Amazing
-   Curl locking ionic technology closes up your hair's cuticle, sealing in the curl all the way to the root. The result is the bouncy, sleek, shiny hair you've always wanted
-   Anti-tangle technology automatically stops if it senses any problems – additionally, the ceramic-coated design virtually eliminates snags
 -   Zero damage curling thanks to our cutting-edge ceramic-coated design. Evenly heats your hair cuticle and stops unintentional burning
 -   Rapid automatic curl means you can take your hair from "blah" to "amazing!" in only 15 minutes.
 -   Cordless convenience means you're never stuck in one room of your house. Curl on the couch, in the kitchen – wherever you want!
Best of all: the battery charges quickly and lasts a long time, making Black Ldn's Automatic Curler an easy travel companion and the automatic curler you'll be pleased to use for years to come!
Endorsed By Famous Influencers & Celebs Like:
- Katie Price, Chloe Ferry, Faryal Makhdoom, Vanity Femme, Fernanda Flores & Mariyah Khan. The list goes on...
- Over 20,000+ Happy Customers!
You Can Try It For 90 Days On Us!
Black Ldn offers a full 90 day, 100% satisfaction guarantee. Order yours, try it out, make sure it works, and decide if you like it over the next 3 months. If you want to send it back, we'll refund every penny of your purchase price, no questions asked.
On top of that, when you do decide to keep your Black Auto Curler, it is still certified for your safety.
We want you to feel safe trying out the Black Auto Curler BEFORE you decide to keep it! But make sure to get yours ASAP, because Our Buy 2+ Items & Get 72% OFF Your Whole Order Ends Soon!
Customer Reviews
Write a Review
Ask a Question
Super easy
Super easy and safe to use! I love the fact that it's also a power bank! Really good product
I've never been able to achieve such luscious curls before, and it's so easy to use. Best purchase ever!!
Amazing product
It's kind on your hair when curling. The curls are amazing and stay in place for long time. It's a fab product.
Love it
I was a bit sceptical of this product at first. But honestly it's amazing. It's so quick and easy. Would highly recommend. Curls stay in all day too❤️